FOR HIGH-PRESSURE SYSTEMS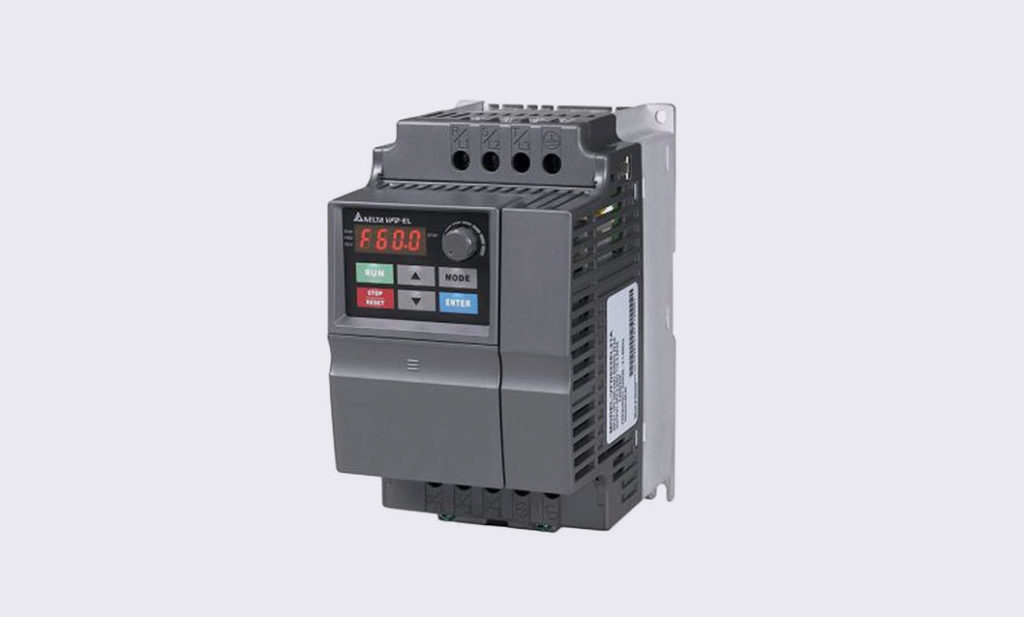 VFD (variablefrequency drive)
Variable Frequency Drive (VFD), provides maximum efficiency to high-pressure cooling systems by automatically adjusting the coolant flow.
Allows working with constant pressure and variable flow by reducing the speed of the electric motor that drives the high-pressure pump. In addition, the VFD offers smooth acceleration and deceleration in order to eliminate the liquid hammer effect.
The VFD can increase flow by running the electric motor at higher RPM. In case of SCS-1000 (70Bar), we can achieve up to 28 liters per minute, among the highest flow in the market for sliding head lathes (Swiss type).
The flow rate is adjusted to maintain the pressure constant, so the coolant lamination effect through the limiting valve disappears,
thus reducing power consumption and heat transferred to the coolant.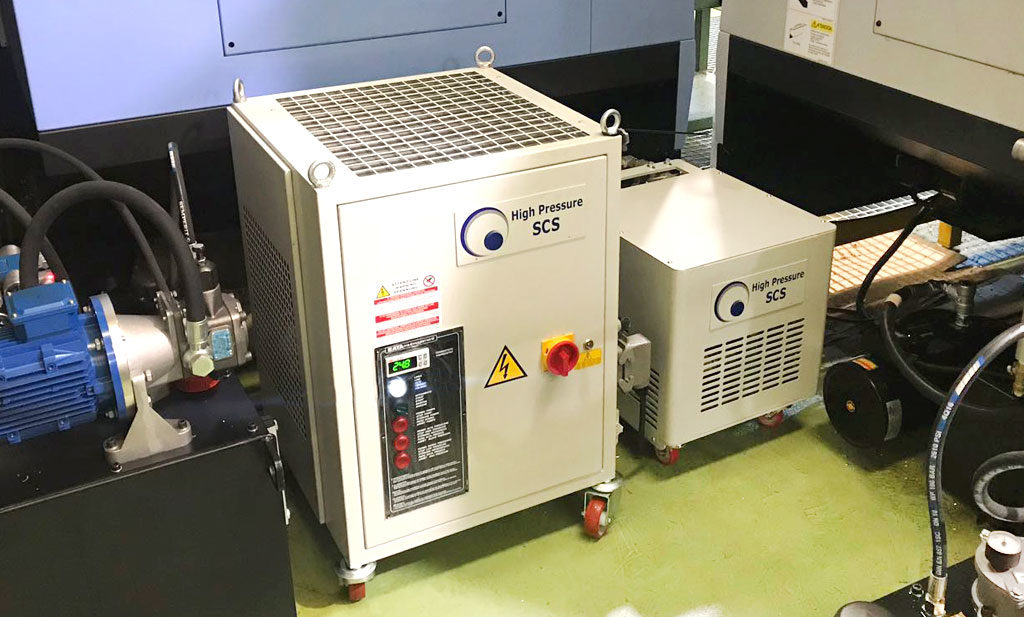 Our range of chillers for high-pressure systems.
Our range of chillers allows working at a constant temperature (with minimum variation) even in factories were ambient temperature is high, which confers a greater dimensional stability in the machined parts.
The cooling capacity is 5, 7, 9 or 11 KW with selectable temperature and low hysteresis for precise control, through a very easy to operate control panel.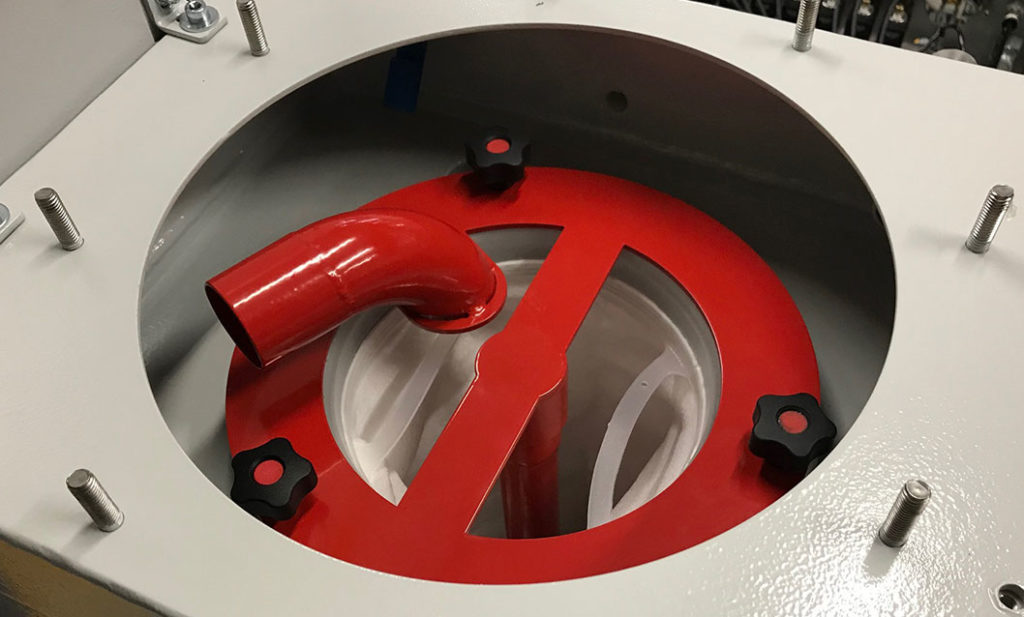 Integrated Magnetic Filter
Includes high-grade neodymium magnets to help increase filter life span.
Improves filtering efficiency, and therefore reduces the coolant contamination and increases is life span. Helps retaining very small particles of steel.
Easy to clean (removable magnet cover cap and manufactured in stainless steel)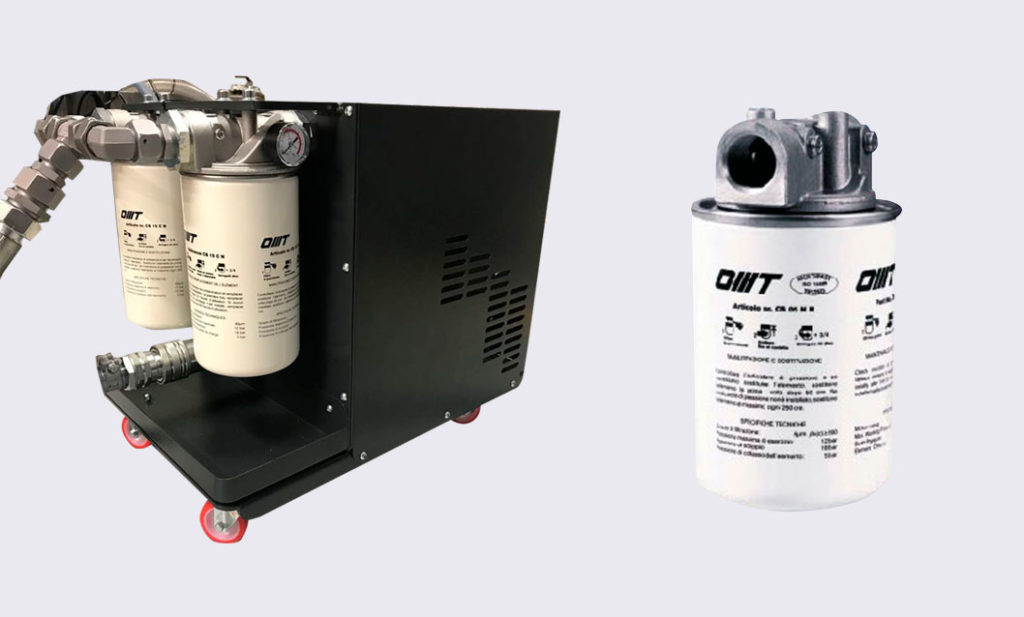 Improves the quality of the coolant and helps to increase the life span of the coolant itself and the cutting tools.
The filters are intended to improve the quality of coolant. Some of the additional benefits include longer tool life, better surface quality and increased operation life of the SCS high-pressure pump. A pressure gauge and a pressure sensor connected to the PLC allow to monitor its performance
We have various types of filters for high-pressure cooling systems:
• On-line filter: Increases tool life and coolant quality thanks to pre-filtration to 125, 60 µm or 25 µm.
• Double filter with change valve: To maintain the possibility of changing the filter without having to stop the system.
• Recirculating filter (6 µm): Drastically improves the quality of coolant.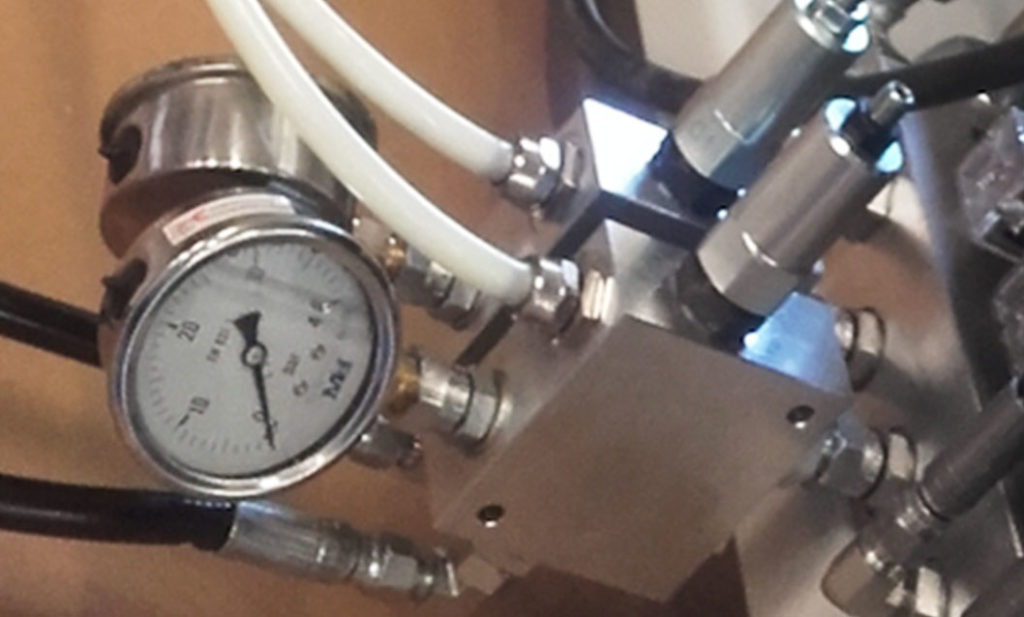 ADJUSTABLE PRESSURE OUTPUT
It allows to work with different pressures according to the needs of the machining process.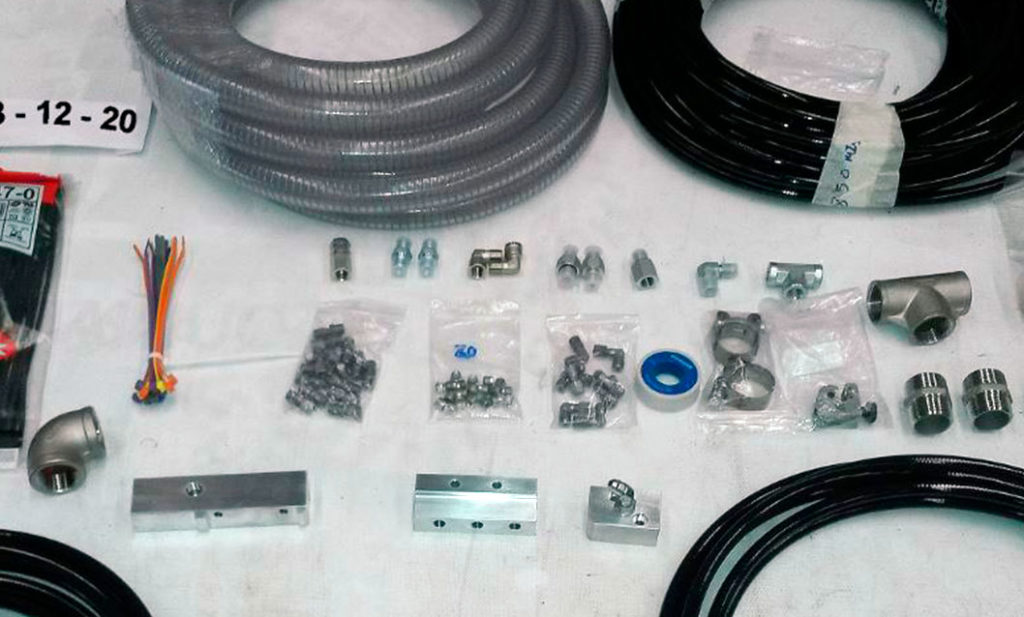 HIGH-PRESSURE ADAPTION KITS FOR MACHINE-TOOLS
The SCS system can be easily installed on any machine in the market that can withstand high-pressure cooling.
We have a lot of experience in installing SCS systems in the following machines:
Sliding head lathes: STAR, CITIZEN, TSUGAMI, TORNOS, etc.
Fixed head lathes: NAKAMURA-TOME, MORI-SEIKI, OKUMA, DOOSAN, etc.
Drilling and Tapping Centers: FANUC, BROTHER, CHIRON, etc.
Machining Centers: OKK, DMG-MORI, MAZAK, OKUMA, etc.
The adaptation kit includes: Fittings, refrigerant distribution blocks for the inside of the machine, high and low pressure pipes.